The Young Scientist Award will be given for the outstanding POSTER presentations performed by scientists 35 years and under. The candidates should be scientists under fixed-term employment or students.

The program committee will make a selection from about 40 candidates.

Program Chairs
Naoshi IKEDA, Sergey VAKHRUSHEV, and Kenji OHWADA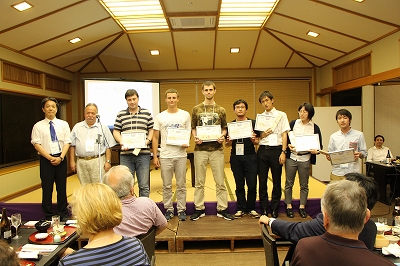 Winners

Michail V. TALANOV
(Southern Federal Univ.)

The critical points on the E-T and x-T phase diagrams of multicomponent solid solutions based on relaxor ferroelectrics


Maxim V. SILIBIN
(MIET)

Evolution of crystal structure and physical properties of Bi1-xPrxFeO3 ceramics across the rhombohedral-orthorhombic phase boundary





Iurii A. BRONWALD
(Ioffe Institute)

Anisotropy of Diffuse Scattering in PZT54 Single crystal





Tasuku YOSHIDA
(Okayama Univ.)

Valence Anomaly of Palladium Oxide Particles on BaTiO3


Mr. Yoshida was absent from the banquet.
His coworker, Mr. Oshimem, spoke on the stage insted of him.

Sota ONO
(Hiroshima Univ.)

Electric Field Response of BaTiO3 Film studied by Time-Resolved X-Ray Absorption Spectroscopy




Yuta ISHII
(Tohoku Univ.)

Resonant soft and hard X-ray scattering study of multiferroic SmMn2O5




Yuki NAKAHIRA
(Hiroshima Univ.)

Structural Fluctuation and Ferroelectric Phase Transition in Stuffed Tridymite-type Oxide BaAl2O4