Hotels
Accommodation in hotels near the symposium site is available.
The reservation is available through the registration system.


https://amarys-jtb.jp/rcbjsf-iwrf/
If you need to save accommodation expenses, we recommend you to book hotels through external websites.


Rakuten Travel
JAPANiCAN.com
Hotels close to the conference site
Urban Hotel

7 minites by foot, the closest hotel to the conference site Reasonable

Excel Hotel Tokyu

10 minites by foot, Clean, new, and well-organized.

Matsue Plaza Hotel

15~20 minites by foot

Green Rich Hotel

15~20 minites by foot

Dormy Inn Express

15~20 minites by foot

Notsu Ryokan

20~30 minites by foot, Japanese traditional hotel

Hotel Route Inn

20~30 minites by foot
Climate
It is the rainy season in Matsue in June. Cloudy or rainy weather are expected every day. (Please, don't forget to bring your rain gear!) The average temperature in June is about 25℃ and the difference between the highest and lowest temperature of the day is small.


Sightseeing in June
The fresh green leaves of trees are wearing bright color in the rain. Someone says that June is the most beautiful season in Matsue. We recommend you to visit "Gesshoji Tenmple", which is located in the west side of center of the city. "Gesshoji tenmple" is famous for its hydrangeas blossoms and is also known as 'Ajisai-dera' (The Temple of Hydrangeas). Over 30,000 of the flowers can be seen in June and July. "Lake line bus" brings you to Gessho-ji-mae stop (in front of Gessho-ji temple) from Matsue Station. It takes about 20 min.

Lake line buses are convenient for visiting tourists. They run a circular route (50 minutes in total) stopping at almost of all the major historic and sightseeing spots in Matsue. You can get the further information about Matsue city in this web-site: http://www.visit-matsue.com/info/moving.html#bus
If you have any questions about your stay in Matsue city, please contact the Matsue International Tourist Information Office located just outside the north exit of the station. You can find all the information you need.
Matsue International Tourist Information Office

Open daily, from 9:00 to 18:00.
Phone: 0852-21-4034.
E-Mail: annai1@web-sanin.co.jp.
Conference site
Kunibiki Messe

1-2-1 Gakuenminami, Matsue, Shimane 690-0826, Japan
From Matsue Station to Kunibiki Messe
1. By foot
It will be a 11 minites walk away.

2. By Bus
"Kita jyunkan-sen" (North Circulation Route of Matsue City Bus service)
Bus. No. 92
from Bus stop No. 1
or
"the Ichibata-bus main office bound bus" (Ichibata Bus service)
from Bus stop No. 11

Then, get off the first bus stop: "Kunibiki messe mae". ]
It will be 5minites from Matsue station.
It will cost 200 yen/person.

3. Taxi
It will be 5minites from Matsue station.
It will cost less than 1000yen/taxi.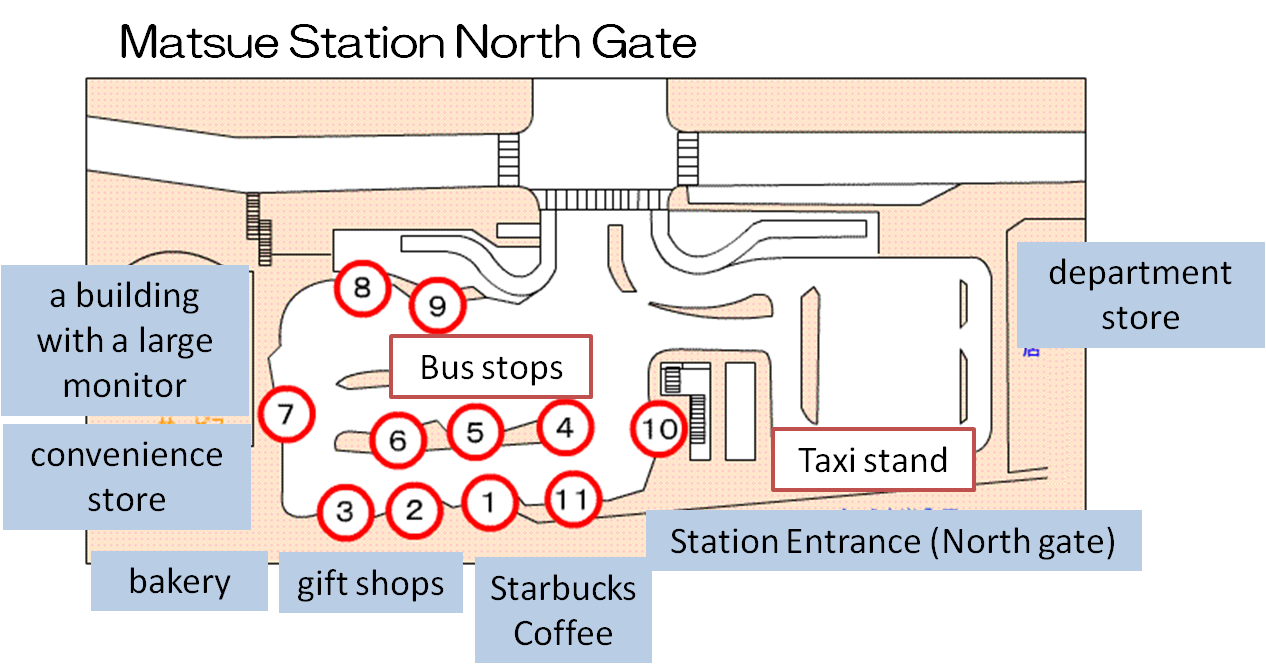 Link to...
Access (Matsue Tourism Association)
Sightseeing Navigation (Shimane Pref. Tourism Federation)
Mythology and Shimane (Shimane Pref.)
---