Introduction to Takahashi Laboratory
Welcome to "Textile and Fiber Science Laboratory for Health (Takahashi Lab.)"
Faculty of Human sciences, Shimane University
Professor Tetsuya Takahashi, Ph.D.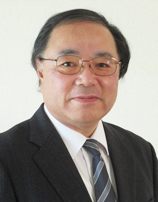 Health is closely related to Textile materials; performance in sports also depends on clothes to a large extent. We are studying materials that facilitate human activities. In addition, we offer education and conduct studies on clothing that impacts health in various ways, including antimicrobial properties, deodorization, and UV blocking.
Takahashi Laboratory is engaged in research and education with a focus on relations between living environment and fiber materials, matter of everyday life. Efforts are made to conduct most advanced studies in the field of fiber materials. Takahashi myself was a member of a Japanese Antarctic Research Expedition to study UV-cutting fibers in the Antarctic and also attempted the preparation of new functional materials from wasted tea leaves, an industrial waste. These studies and many other studies were conducted with a spirit of romantic adventure. The followings are concrete research themes in which Takahashi Laboratory is engaged.
Protective studies of UV protection materials against UV exposure in Antarctica
Antibacterial Property of Fabrics Washed by using Zeolite Supported by Metal-ion
Preparation of functional Compounded Papers Using Wasted Tea Leaves
Functionalization of rayon fiber utilizing titanium oxide photocatalyst
Soil-resistant property of polypropylene fiber containing synthetic compounds
Takahashi Laboratory wholeheartedly welcomes those keenly interested in research and those seeking admission to the laboratory at an undergraduate level or a graduate level.
Professor Tetsuya Takahashi's Profile
Degree:

1995: Ph.D. in Engineering (Polymer Science) from Shinshu University.

2010: Second Ph.D. in Agriculture (Wood Chemistry) from Kyushu University.

Professional Positions

1988: Showa Denko K.K. Kawasaki Plastics Lab. (~1992). Chief Engineer

2000: Shimane University, Faculty of Education. Associate Professor

2005: Shimane University, Faculty of Education. Professor

2017: Shimane University, Faculty of Human sciences. Professor

At present.

2007-2008: The 49th Japanese Antarctic Research Expedition

Lecture at other Universities etc.

Lecturer at Faculty of Education at Hiroshima University.

Awards and Honors

2014: Research Award Winner of 2014 for "Shimane University"
Title: "Studies on Development of High function Fiber materials"
2004: Award Winner of 2004 for "Kansai Branch, The Society of Fiber Science and Technology, Japan"
Title: "Development of High Performance Polypropylene Fibers"
2003: Award Winner of 2002 for "The Society of Materials Science, Japan"
Title: "Application of Industrial Waste of PET/PE Core/Sheath Non-woven Fabrics to Composite Materials"
1997: Award Winner of 1997 for "The Japan Reinforced Plastic Society"
Title: "Tensile characteristics of polyolefin/glass composites using waste of polyolefin fibers as matrix material in injection molding"

Addresses:

Faculty of Human sciences, Shimane University, 1060, Nishikawatsu-cho, Matsue, Shimane, 690-8504, Japan

E-mail: takahashi@hmn.shimane-u.ac.jp